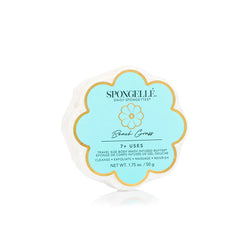 Daisy Spongette, Beach Grass
Our Beach Grass Spongette meets Daisy Collection's signature flower design. Everything you love about our travel-friendly Spongette with the bonus of soft petal curves to enhance your cleansing experience. Treat yourself to the scent of carefree summers near the water and the sweet musk of your lover's arm. Plus, our Spongette is accepted on all airlines making Beach Grass your go-to for warm hideaways and memorable excursions abroad.
Now with 7+ uses, your Spongette will last the entire length of a week's vacation or a full week of pampering at home.
Smells Like
An unforgettable beachside escape
Feels Like
Picnics by the shore and polaroids you'll treasure forever
Fragrance Notes
Top: Spicy, Fruity, Green
Middle: Jasmine, Rose, Powdery
Base: Aquatic, Woody, Musk