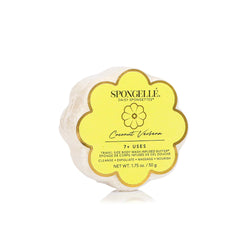 Daisy Spongette, Coconut Verbena
Our Coconut Verbena Spongette meets Daisy Collection's signature flower design. Everything you love about our travel-friendly Spongette with the bonus of soft petal curves to enhance your cleansing experience. Treat yourself to the scent of the tropics with creamy coconut and juicy citrus on tap. Plus, our Spongette is accepted on all airlines making Coconut Verbena a necessary companion on your next exotic vacation.
Now with 7+ uses, your Spongette will last the entire length of a week's vacation or a full week of pampering at home.
Smells Like
An idyllic resort with all the amenities 
Feels Like
The magic of sand and surf
Fragrance Notes
Top: Coconut, Peach
Middle: Jasmine, Floral
Base: Amber, Lemon