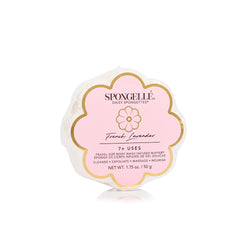 Daisy Spongette, French Lavender
Our French Lavender Spongette meets Daisy Collection's signature flower design. Everything you love about our travel-friendly Spongette with the bonus of soft petal curves to enhance your cleansing experience. Treat yourself to a milky bath of fresh lavender and delicious beauty sleep. Plus, our Spongette is accepted on all airlines making French Lavender a comforting companion on any stateside or European escape.
Now with 7+ uses, your Spongette will last the entire length of a week's vacation or a full week of pampering at home.
Smells Like
Lavender fields for days on end
Feels Like
An escape to the south of France 
Fragrance Notes
Top: Hesperides
Middle: Tea Rose, Amber
Base: Lavender Tea, Spicy, Woody