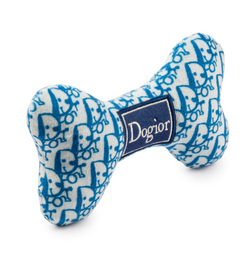 Haute Diggity Dog
Dogior Bone, Large
Dogior Bone

Introducing Dogior Bones, the epitome of luxury for your stylish pup. Each bone features a built-in squeaker to provide endless entertainment. Available in three sizes, they cater to dogs of all breeds. Designed to captivate dogs with a passion for luxury brands, Dogior Bones combine fashion and fun. Treat your furry fashionista to the ultimate indulgence with Dogior Bones today.
Small Measures 4.5" x 3" x 1"
Large Measures 6" x 4" x 1"
XL Measures 9" x 6" x 1.5"
Imported