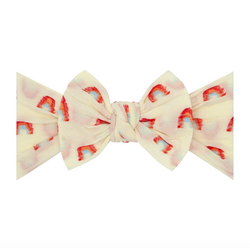 Baby Bling
Patterned Shabby Knot, Daffodil Pastel Rainbow
Shabby is the new chic in the woven dot PATTERNED SHABBY KNOT. The raised dots add detail and texture to your favorite Baby Bling headbands.
* Limited seams on the headband means maximum stretch for ultimate comfort.
* Visible stitching adds detail and protects the integrity of the fabric; no holes were cut to turn the seams in.
* Designs and textures woven into the fabric elevate the uniqueness.
* Extra little textured details showcase your eye for style.
* Available in a wide variety of colors, you can match today's hottest trends and your favorite hand-me downs.
* This style is sewn in two pieces for mix-and-matching to create a custom look.