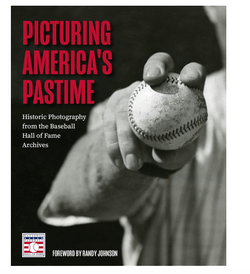 Ingram Publisher Services
Picturing America's Pastime
"It's a great addition to your coffee table, or as a gift to the baseball fan in your life." ―baseballmusings.com
#1 New Release in Photojournalism, Photo Essays, Statistics, History, Sports Photography, and Sports
Picturing America's Pastime
 celebrates baseball through a unique photography collection of the National Baseball Hall of Fame and Museum's unmatched archive of baseball photos.
Preserving History, Honoring Excellence, Connecting Generations is the mission of the Baseball Hall of Fame in Cooperstown, New York. Now, with this unequaled collection of photos from baseball history, you can revel in the moments we share at the ballpark, the grand sweep of the stadium, the drama of the game, and classic images of baseball greats.
Celebrate the history of baseball and baseball photography. Go beyond the standard highlights of baseball history in this collection of rarely seen photos that reveals the full landscape of our national pastime as no other collection can. Selected by the historians and curators at the Baseball Hall of Fame, the photographs reveal the rich relationship between photography and the game.  Each image includes an historic quote and a detailed caption, often highlighting little-known information about the photographers and techniques used across the 150 plus years covered in the book.
Experience the storied history of this great game through iconic images:
Panoramic photos of historic stadiums

A thoughtful Honus Wagner studying his bat

Early African American team portraits and photos of such greats as Hank Aaron, Jackie Robinson, and Orestes "Minnie" Miñoso

And much more!