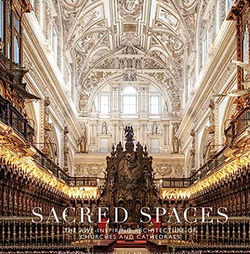 Hachette Book Group
Sacred Spaces: The Awe-Inspiring Architecture of Churches and Cathedrals Book
Designed to evoke wonder and awe in believers and nonbelievers alike, churches stand as a testament to the power of belief and to the men and women who designed and built them.

Offering unprecedented access to a collection of revered religious landmarks, photographer Guillaume de Laubier takes readers on a stunning architectural tour. 
Sacred Spaces
 showcases breathtaking photographs of extraordinary churches and cathedrals, revealing original, illuminating views of icons, including:
La Sagrada Familia in Barcelona

Church of the Gesu in Palermo

St. Peter's Basilica in the Vatican City

Saint Basil's Cathedral in Moscow

Notre-Dame in Paris

And more!
Whether Catholic, Protestant, or Orthodox; made of wood, stone, concrete, or glass; Roman, Gothic, Baroque, or modern, the places of worship featured in this richly produced volume present an extraordinary overview of our architectural and cultural history.

Whether you have visited one of these magnificent sites, or many, the full-color images here will bring you a new appreciation of the beauty of church buildings and the history of Christian communities across the globe. Let these beautiful photographs and this oversized, overfilled coffee table take you on a trip around the world to buildings that have meant so much to so many for centuries.

This magnificent book belongs on the bookshelf of devout Christians everywhere. No better gift can be found for someone interested in architecture around the world and the beauty of magnificent Christian houses of worship.