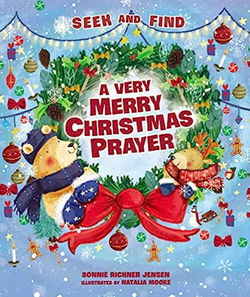 Harper Collins Publishers
A Very Merry Christmas Seek and Find
This interactive edition of A Very Merry Christmas Prayer includes
heartfelt rhyming text about all the blessings of winter and Christmas;

whimsical illustrations, updated to have just the right level of complexity for the youngest searchers;

a key of hidden objects on each spread that includes the name of each item; and

sturdy extra-large board book pages.
Children ages 3 to 5 will build early learning skills as they
develop observation and concentration skills;

learn letter recognition and connect letters with their sounds;

identify simple sight words;

match words to pictures;

find twinkling stars, stockings, Christmas carol books, snowmen, and much more;

celebrate Christ's birth and all the best parts of the winter holidays; and

build confidence in their own value and skills.
This refreshed favorite is a great gift from Santa, Christmas tree surprise, or Advent gift for you and your children or grandchildren to enjoy throughout the Christmas season. Help your toddlers and preschoolers develop pre-reading skills while your family gives thanks for all that the Christmas season has to offer—especially the amazing gift of baby Jesus, the King of kings!