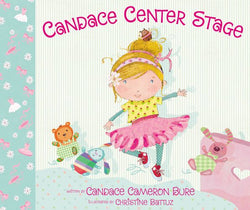 Every child who loves to dance will surely get a "kick" out of Candace Center Stage, the heartwarming and hilarious tale of a girl who joyfully embraces the song and dance in her heart … even when she doesn't quite fit in at ballet class.
Written by Candace Cameron Bure, New York Times bestselling author and star of the hit TV series Full House and Fuller House, this charming, laugh-out-loud picture book tells the story of a little girl who quickly realizes one thing after her mother signs her up for ballet lessons … she's no ballerina.
As Candace moves and grooves across the floor, she topples all the ballerinas in her path. Her teacher, Miss Grace, tries to teach her proper ballet positions, but Candace is more interested in shakes and shimmies than plies and pas de bourrées. When disaster strikes during the big recital, can ungraceful Candace step up and save the day?
Candace Center Stage:
Is an adorable picture book that tells the story of a spirited dancer who doesn't quite fit in at ballet class
Encourages children, especially boys and girls ages 4-8, to embrace who they are
Is written by actress, producer and author Candace Cameron Bure, best known for her role as D.J. Tanner on Full House and Fuller House
Sparkles and shines with glitter on the cover