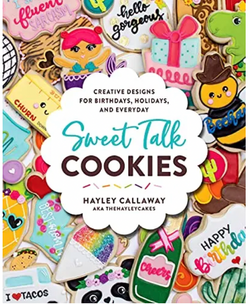 Hachette Book Group
Sweet Talk Cookies: Creative Designs for Birthdays, Holidays, and Everyday
Finally, a cookie book that's sweet and sassy! 
Sweet Talk Cookies
 has gloriously out-of-the-ordinary cookie designs.
If you're sick of the same-old cookies, if you can't possibly decorate another bland tree or stocking, look no further. Hayley Callaway, founder of Hayley Cakes and Cookies (@thehayleycakes), has just what you need-whether that's a taco truck and message cookie that says "Feed me and tell me I'm pretty" or a T-rex hanging Christmas lights. When it comes to designs, this is a book filled with cookies that have character, for year-round fun. Chapters span the seasons, including both holiday-related motifs and designs that simply celebrate something like summer fun (helllooo snow cones!).