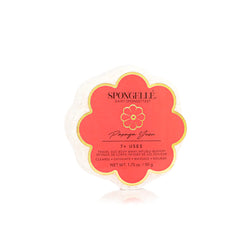 Daisy Spongette, Papaya Yuzu
Our Papaya Yuzu Spongette meets Daisy Collection's signature flower design. Everything you love about our travel-friendly Spongette with the bonus of soft petal curves to enhance your cleansing experience. Treat yourself to decadent papaya dipped in caramel, with nothing else on the agenda. Plus, our Spongette is accepted on all airlines making Papaya Yuzu the perfect companion for your next tropical vacation.
Now with 7+ uses, your Spongette will last the entire length of a week's vacation or a full week of pampering at home. 
Smells Like
An unexpected fruit basket from the concierge
Feels Like
Lounging under the palm trees 
Fragrance Notes
Top: Mélange Of Fruity Notes
Middle: Floral Notes Of Cyclamen And Bois De Rose
Base: Sweet Sugary Caramel